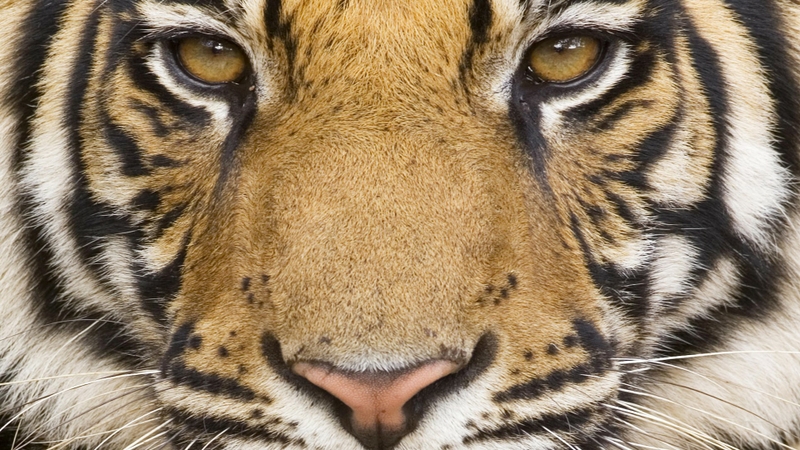 This is Indian Wildlife Tour in Style. This short and crisp tour combines the finest National Parks in the central India with the best jungle lodges in India. These are park offer variety of terrain, flora and fauna with Tiger as the main draw. Taj group has taken the wildlife accommodation to a whole new level with supreme luxury, attention to details, sublime location, and amazing wildlife experience in customized vehicles. Â Weave teamed up with the Taj Group India's leading five-star hotel chain to offer a 11-day luxury tour through the country's wild heart.
Duration: 10N/11D
Tour Plan: Delhi – Pench – Kanha – Bandhavgarh – Panna – Delhi
This Eleven day Tiger safari in India covers all four of Central India's Tiger reserves i.e Pench, Kanha, Bandhavgarh and Panna. This wildlife tour of India is based on using the finest accommodation throughout, in Delhi, you stay at the Imperial hotel, Delhi's most exclusive luxury hotel, and while on safari, at the Taj safari lodges in Pench, Kanha, Bandhavgarh and Panna.
Detailed Tour Plan
Day 01: – Arrive Delhi
Arrive at Delhi International Airport.
Delhi : A bustling metropolis and a city of 14 million inhabitants, is also India's capital. A near perfect blend of the ancient and the modern, Delhi, consisting two parts Old & New Delhi, is a city with something for everyone. From Forts and monuments that are almost 500 years old, to modern shopping malls, nightclubs and golf courses, Delhi truly is India's crown jewel.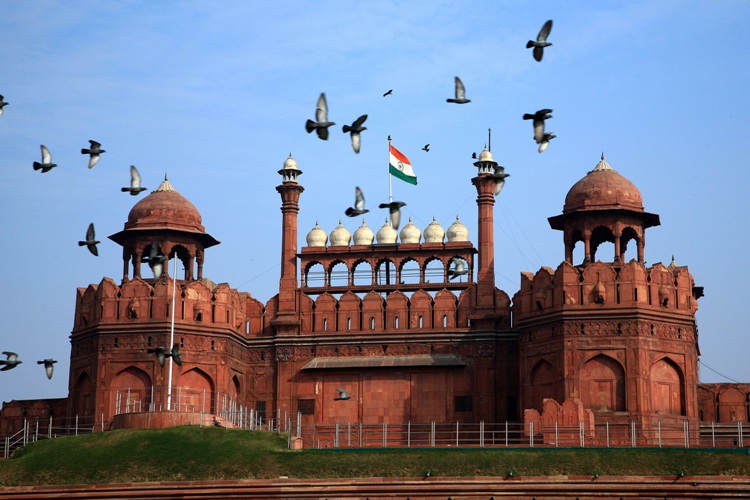 Upon clearing Customs and Immigration, you are met by our representative who will present you with a welcome pack including all necessary documentation and arrange your transfer to The Imperial hotel for check-in. No activity is scheduled today, since most of the International flights arrive into India close to midnight only.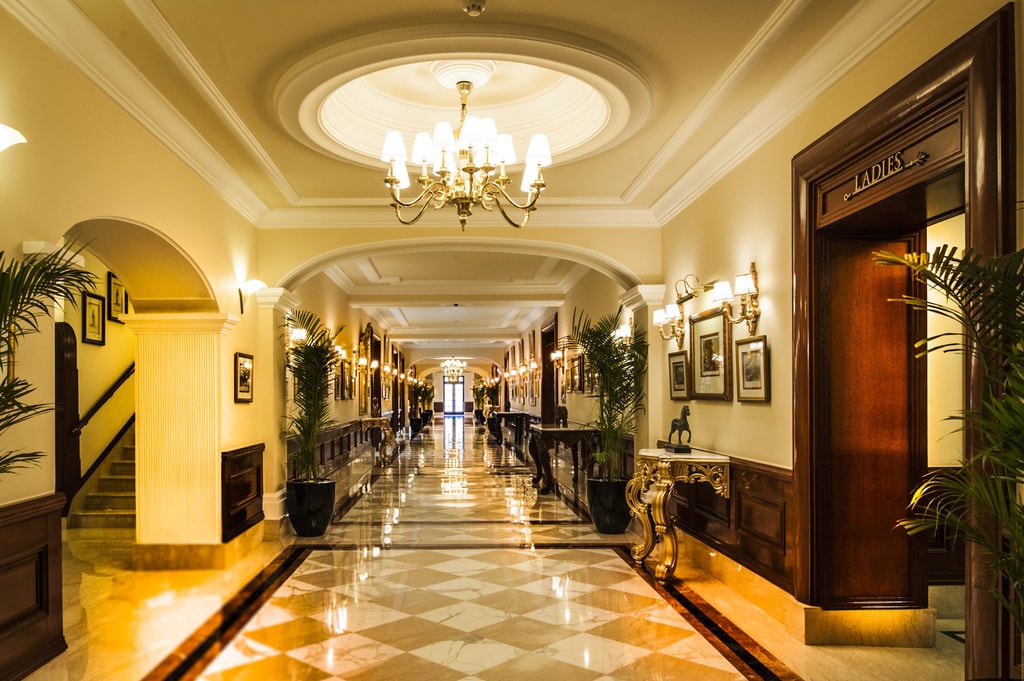 The Imperial :- The Imperial Hotel, one of Delhi's best known luxury Hotels is also one of the oldest hotels in Delhi .Built in 1933, it has a somewhat unconventional style & design; a mixture of Victorian and old colonial with a playful dosage of art deco. The hotel, which is centrally located on Janpath, is set in beautiful gardens and its facilities include an outdoor swimming pool, a shopping arcade, permanent in-house art galleries and a variety of restaurants.
Day 02: Delhi
This morning you are collected from your hotel for full day tour of Old and New Delhi.
The tour of the 17th-century old city includes the great mosque of Jama Masjid, The main street of Old Delhi is the colorful shopping bazaar known as Chandni Chowk ("Moonlit Street"). Drive past Raj Ghat, the cremation site of Mahatma Gandhi.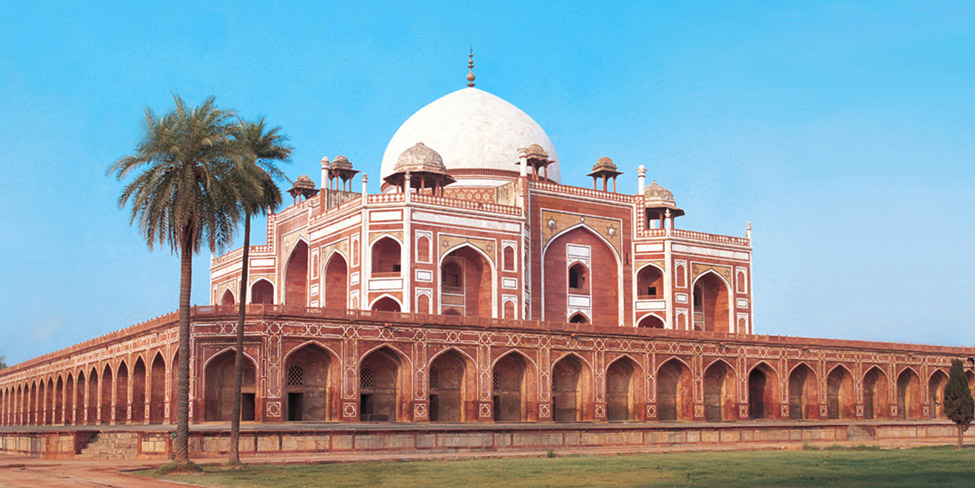 Humayun's Tomb : – The tour of New Delhi includes the Humayun's Tomb, the precursor of the Taj Mahal. Drive down the spectacular Rajpath ("the Kingsway,") passing the India Gate (the memorial built to commemorate the unknown soldiers,) the President's House, and the House of Parliament. Enjoy a brief respite from the otherwise bustling city at Birla Mandir, a modern and colourful Hindu temple.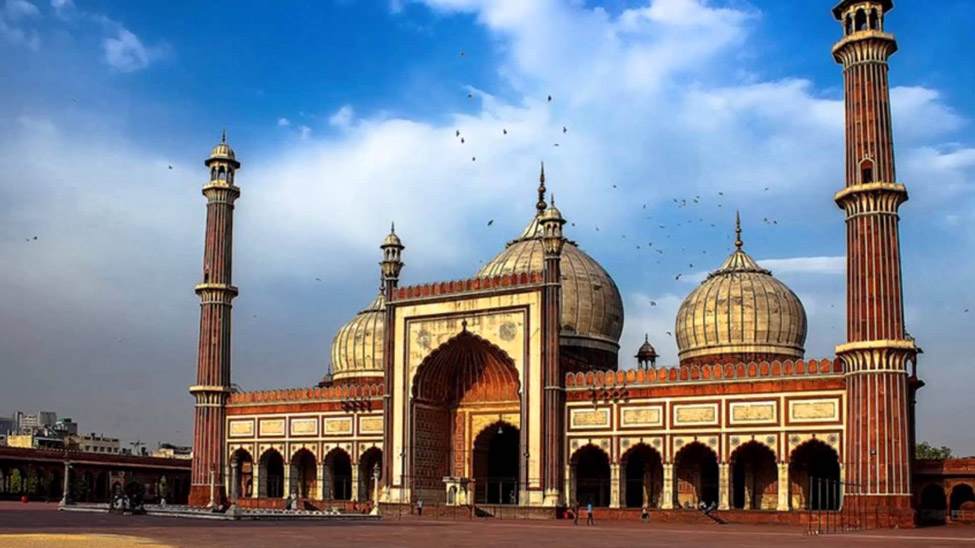 Evening at leisure to perhaps venture out and discover the city or its many restaurants on your own.
Day 03 : – Delhi – Nagpur – Pench
This morning you will be met by our representative and escorted from your hotel to airport to board flight for Nagpur.
Upon arrival at Nagpur airport you will be met and drive to Pench National Park. (90 kms/02 hrs), the first of the four National parks that you visit as a part of your luxury safari in India.
Pench : Pench Tiger Reserve, located in the Central Indian state of Madhya Pradesh, is the 19th Project Tiger Reserve and has been one of the best-kept secrets among wildlife enthusiasts who have long been acquainted with and bedazzled by its immensely varied flora and fauna. No wonder the area providing a backdrop for it's animal character dominated by fairly open canopy of mixed forest, predominantly teak, with open grassy patches, the park with its undulating land boasts the highest density of herbivores in any Indian park. The population of cheetal, or spotted deer, is particularly high and there is also abundance of sambar and nilgai.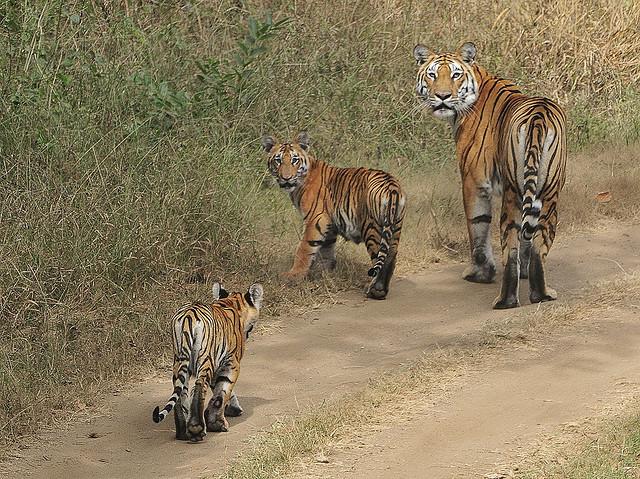 Visitor cannot fail to be amazed by the mighty gaur or Indian bison, which shares its home with such diverse creatures as wild boar, sloth bear, dhole, and mongoose and jungle cat. As its name implies, the park is also home to the illusive Royal Bengal Tiger and the equally shy leopard. The bird life has been described by visitors as some of the best in India and among the 250 or so species are malabar pied hombills, painted stork, long-tailed shrikes, kingfishers, blue jays and birds of paradise as well as crested serpent eagles, changeable hawk eagles and vultures. The picturesque Pench River, which winds it's way through the park, is a magnet for all birds, particularly during the winter migration when the area teems with visitor including Brahmini ducks and batheaded geese. Lying on the southern slopes of the satpura ranges, the tiger reserve covers just over 757 sq kms and is two hours by road from Nagpur. While still known locally as Pench National Park, it's name was changed in November 2002 to Indira Priyadarshni Pench National Park in honour of the Late Prime Minister of India, Indira Gandhi. The Park is open from 1st October till 30th of June every year.
Upon arrival check-in to the Taj Safaris Baghvan Lodge.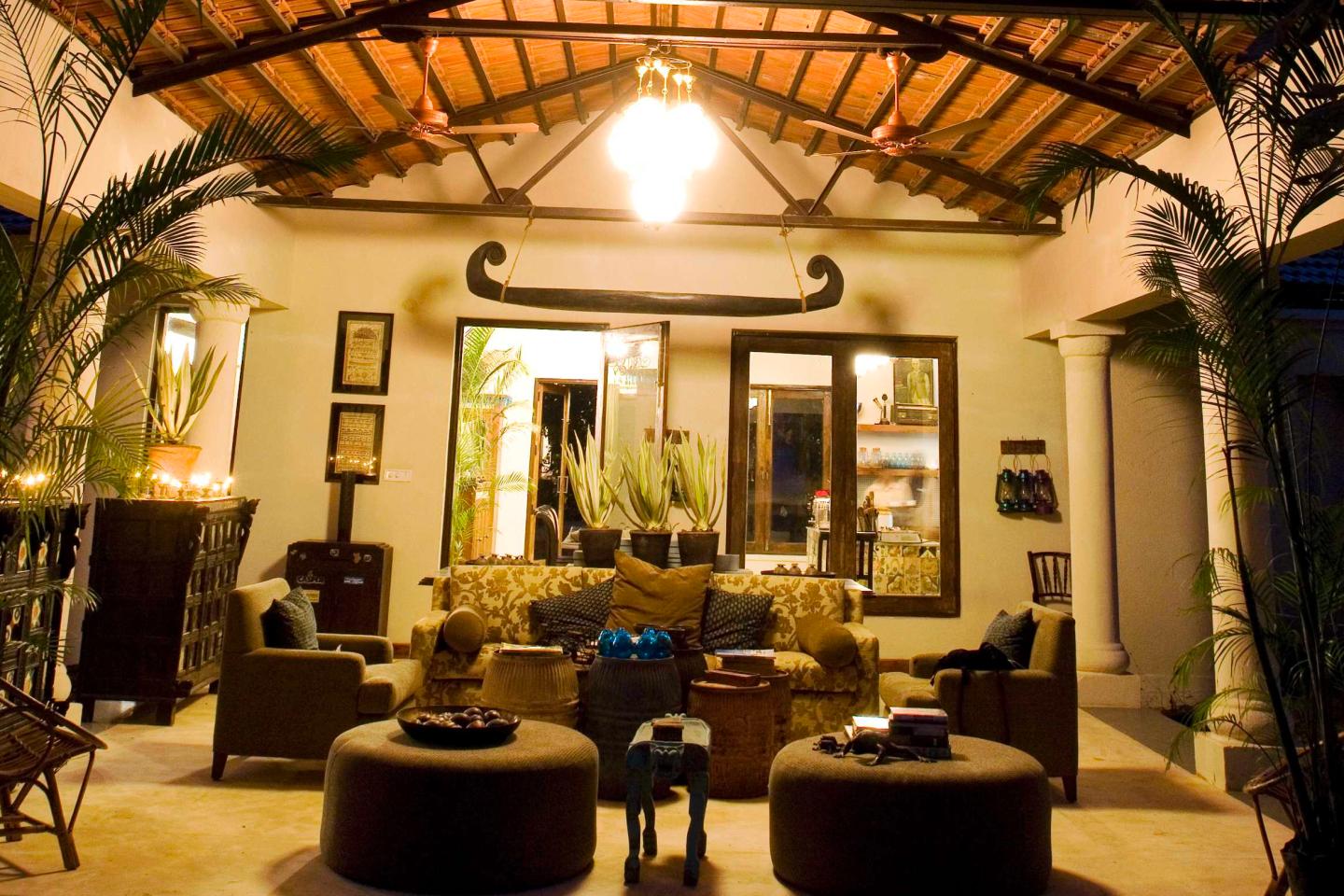 Taj Safaris Baghvan Lodge: A product of the recent partnership between CC Africa (now called &Beyond) and the Taj Group, the Bagh Van offers the ultimate in luxury, as far as lodge accomodation in Pench is concerned. The name Baghvan draws its inspiration from one of India's iconic symbols, the Bengal tiger (bagh – tiger and van – forest). Pronounced baagh-vun, this charming lodge is located on the edge of Pench National Park . The Bagh Van has 12 stand alone suites, each charming individual suite has a contemporary bungalow feel with a cheeky 50's ambiance. All suites have a spacious air conditioned bedroom with private shaded sit-outs.
Bedrooms all have a Jharokha (wooden latticed bay window) that filters the soft early morning light and covered inter-leading link takes guests to generously proportioned bathrooms with double vanity, separate w.c, indoor and outdoor showers. Leisure facilities at the Bagh van include a large Swimming pool, and large common guest areas, where talks and film shows on wildlife are held almost daily.
Afternoon Game ride into the Pench National Park. Safaris in Pench are organized in jeeps. Local guides and naturalists are at hand to enhance the experience. Overnight at the Lodge
Day 04: Pench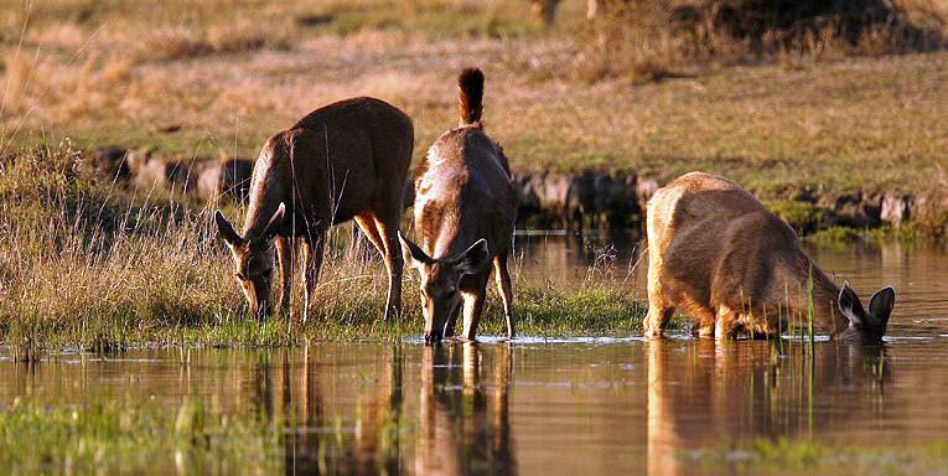 Early morning & evening game safaris into the Pench National Park. Safaris in Pench are organized in jeeps. Local guides and naturalists are at hand to enhance the experience. Those of our guests, who have been lucky to sight a Tiger at close range (and most have) have said, that, the image will always remain in their memory, as a high point of their tiger safari in India.
Day 05: Pench – Kanha
This morning you drive to Kanha (160 kms/05 hrs.)
Kanha situated in the Central Indian state of Madhya Pradesh, the picturesque Kanha National Park was the inspiration behind Rudyard Kipling's unforgettable classic Jungle Book. The romance of the Kanha National Park has not reduced over time-it is still as beautiful.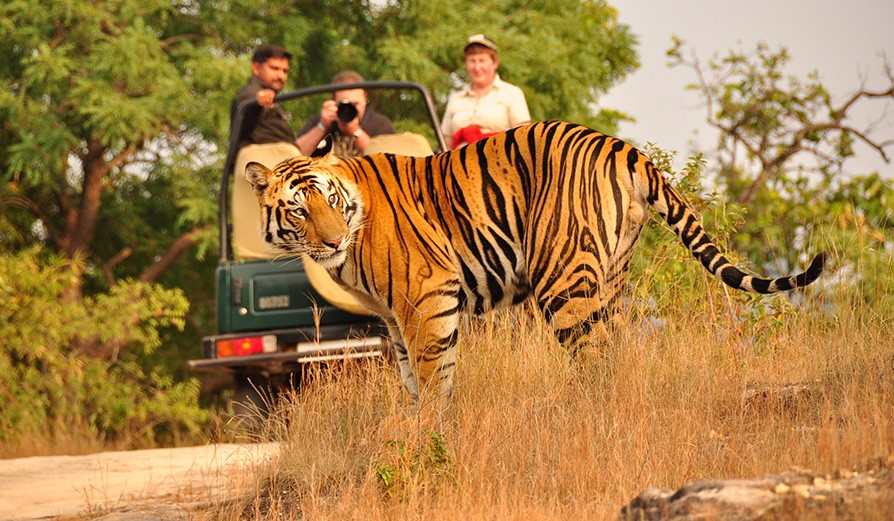 Kanha National Park : – The park was created in 1955 by a special law and, since then, it has dedicated itself in preserving a variety of animal species. Many endangered species have indeed been saved here. Today Kanha is among the few most scenic and beautiful wildlife reserves in Asia. This 'Tiger Country' is the ideal home for both predator and prey. By far the most striking features of this region are the open grassy meadows, where sighting blackbuck, swamp deer, sambhar and chital is common. And, if one can transcend into time, a barefooted Mowgli would perhaps come padding along the dusty trail, for this is the land of Kipling's Jungle Book.
Kanha is perhaps one of the best parks for sighting tigers .Of the numerous Tiger reserves in India, that are preserving this ferocious beast, but nowhere can you see them as often, and as regularly as in Kanha National Park.
The main wildlife attractions in the park are Tiger, Bison, Gaur, Sambhar, Chital, Barasingha, Barking Deer, Black Deer, Black Buck, Chousingha, Nilgai, Mouse Deer, Sloth Bear, Jackal Fox, Porcupine, Hyena, Jungle Cat, Python, Pea Fowl, Hare, Monkey, Mongoose, Tiger and Leopard.
The birds species in the park include Storks, Teals, Pintails, Pond Herons, Egrets, Peacock, Pea Fowl, Jungle Fowl, Spur Fowl, Partridges, Quails, Ring Doves, Spotted Parakeets, Green Pigeons, Rock Pigeons, Cuckoos, Papihas, Rollers, Bee-eater, Hoopoes, Drongos, Warblers, Kingfishers, Woodpeckers, Finches, Orioles, Owls and Fly Catchers.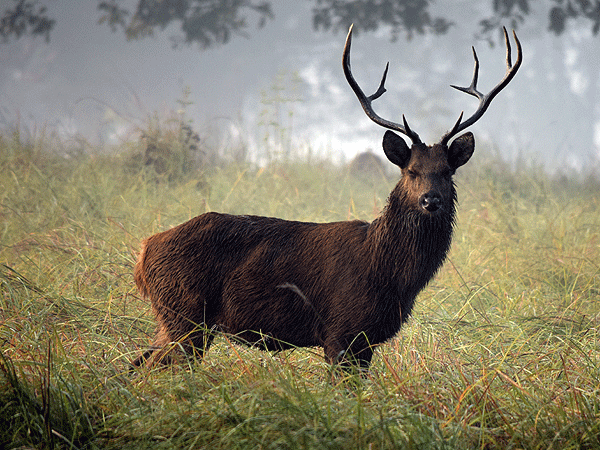 However, if one animal species were to represent Kanha, it would probably be the barasingha, or the swamp deer. The barasinghas at Kanha are unique, being the hard ground variety, which populate the large open tracts of grass amidst the forests of teak and bamboo. Twenty years ago, the barasingha was faced with extinction but some desperate measures including the fencing-off of some animals helped save them and again the air in Kanha bugle with their rutting calls.
Upon arrival check-in to the Taj & Beyond Banjaar Tola.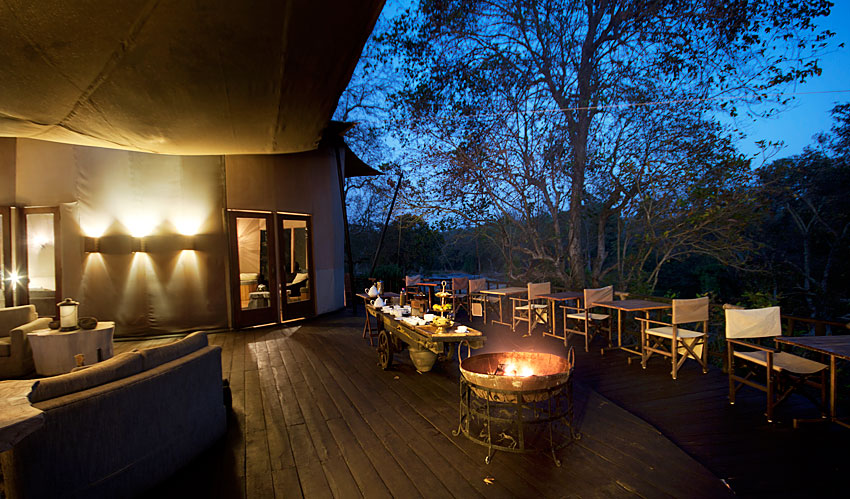 Taj & Beyond Banjaar Tola : Taj Safaris' third jungle safari lodge is situated along the banks of the Banjaar River, directly overlooking the heart of Kanha National Park. The luxurious, yet lightweight, ensuite tents have been designed in a contemporary style with pressed bamboo wall panels, gorgeous bamboo floors, and locally crafted furniture hewn from the timber of exotic Indian trees. The intimate camp, is set in 90 acres of lush green property. The lodge has a café at the entrance, dining decks on the river side, and a swimming pool.
Evening game safari into Kanha National Park. Safaris in Kanha are organized in jeeps. Local guides and naturalists are at hand to enhance the experience.
Day 06: – Kanha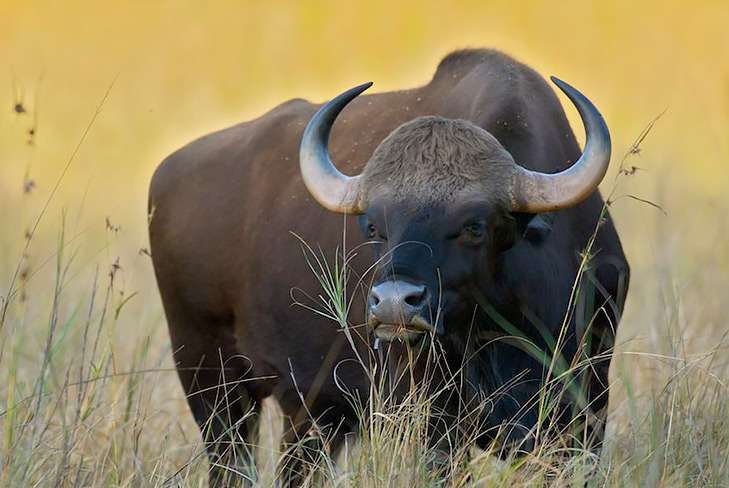 Early morning & evening game safaris into the Kanha National Park. Safaris in Kanha are organized in jeeps. Local guides and naturalists are at hand to enhance the experience.
Day 07: Kanha – Bandhavgarh
Early morning game safari into the Kanha National Park. Safaris in Kanha are organized in jeeps. Local guides and naturalists are at hand to enhance the experience. Later, drive to Bandhavgarh (250 kms/06 hrs).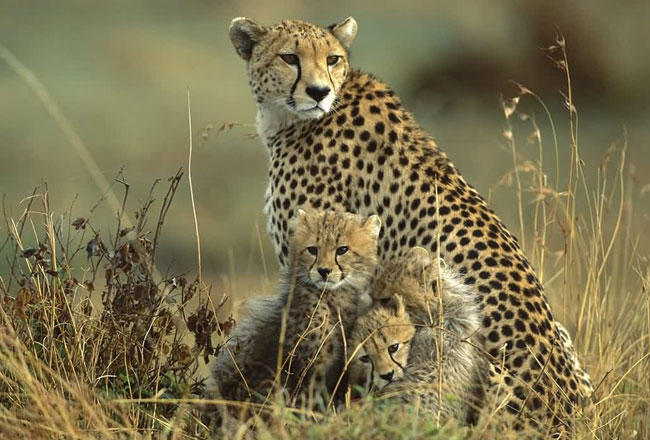 Bandhavgarh : Bandhavgarh National Park, situated in the Central Indian state of Madhya Pradesh, has established a reputation as one of the best places in India to observe Tigers. The 105 square kilometers of park area, open for tourists is reported to have over 25 tigers. Like many Tiger reserves in India, the area was formerly the hunting reserve of a Maharaja and contains much evidence of its royal associations, most spectacular being the ruins of a huge hilltop fort which dominates the centre of the reserve.
The Sal Forest which predominates in the Park is replaced by mixed forests at the higher elevations in the hills and there are also expanses of grassland and bamboo in the north. The core of the reserve is hilly and dominated by the ancient natural fort which towers to an impressive 800 metres above the forest. The Fort too is worth a visit. Bandhavgarh being an arid region, water is always attractive to wildlife and the presence of pools and streams in the reserve is one of the reasons it is so favoured by both game and predators. Although Tigers are the star attraction at Bandhavgarh the list of other mammals and birds that have made Bandhavgarh their home , is very impressive too .The list of birds includes such species as Grey-headed Fishing Eagle, Plumheaded Parakeet, Malabar Pied Hornbill, Greater Racket-tailed Drongo and Asian Paradise Flycatcher among a total of over 250 species recorded in the district. Tigers and the more rarely seen Leopards, have no shortage of prey in the reserve.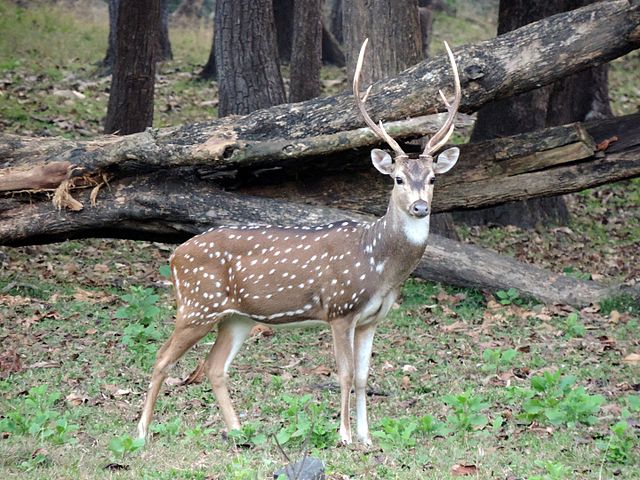 The Spotted Deer or Chital is a favourite item on the Tiger menu and several thousand of these delightful deer inhabit the park. Other species found here in varying abundance include; Chinkara, Chowsinga, Wild Boar, Sambar, Muntjac and Nilgai. The Asian Bison or Gaur last sighted as a small herd in 1998, the animal is now conspicuous by its absence since. A closely monitored programme of the reintroduction of the Gaur is planned within couple of years. A hunting pack of wild dogs may also be seen on occasions. Mammal sightings always require a degree of luck, particularly when the species is essentially nocturnal or reclusive but each outing in the reserve will at least provide a chance to meet one of the rarer inhabitants such as Sloth Bear, Indian fox, Jackal, Wolf, Ratel, Striped Hyenas, Jungle Cat or Indian Pangolin. More predictable are the sounders of Wild Boar rooting among the vegetation, Indian Hares, the lively little Palm Squirrels which seem to be constantly in a state of agitation, and several members of the mongoose tribe. Common Langurs and Rhesus Macaques are also plentiful, the former enjoying an elevated view of the forest as they devour their favourite leaves and often the first creature to bark out a warning at the appearance of a Tiger below.
Upon arrival in Bandhavgarh, check in to the Taj CC Africa Mahua Kothi.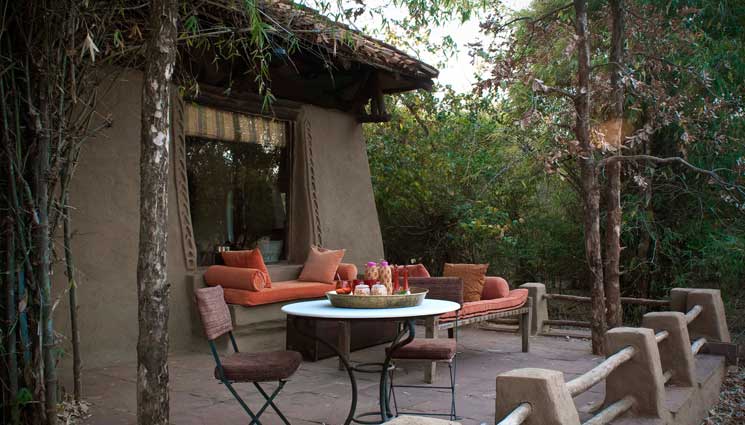 Taj & Beyond Mahua Kothi : A product of the recent partnership between CC Africa and the Taj Group, the Mahua Kothi offers the ultimate in luxury , as far as lodge accommodation in Bandhavgarh is concerned. The twelve charming suites or Kutiyas (jungle village huts) are newly built in the 40 acre grounds of the renowned tented camp formerly known as Churhat Kothi. The original Kothi (homestead) comprising the guest areas remains and has been extensively renovated, but the guest accommodation is all brand new. Those familiar with CC Africa's standards when it comes to Game lodges , would no doubt know what to expect here — the best accomodation , top class services , gourmet cuisine and the best naturalists.
Day 08: In Bandhavgarh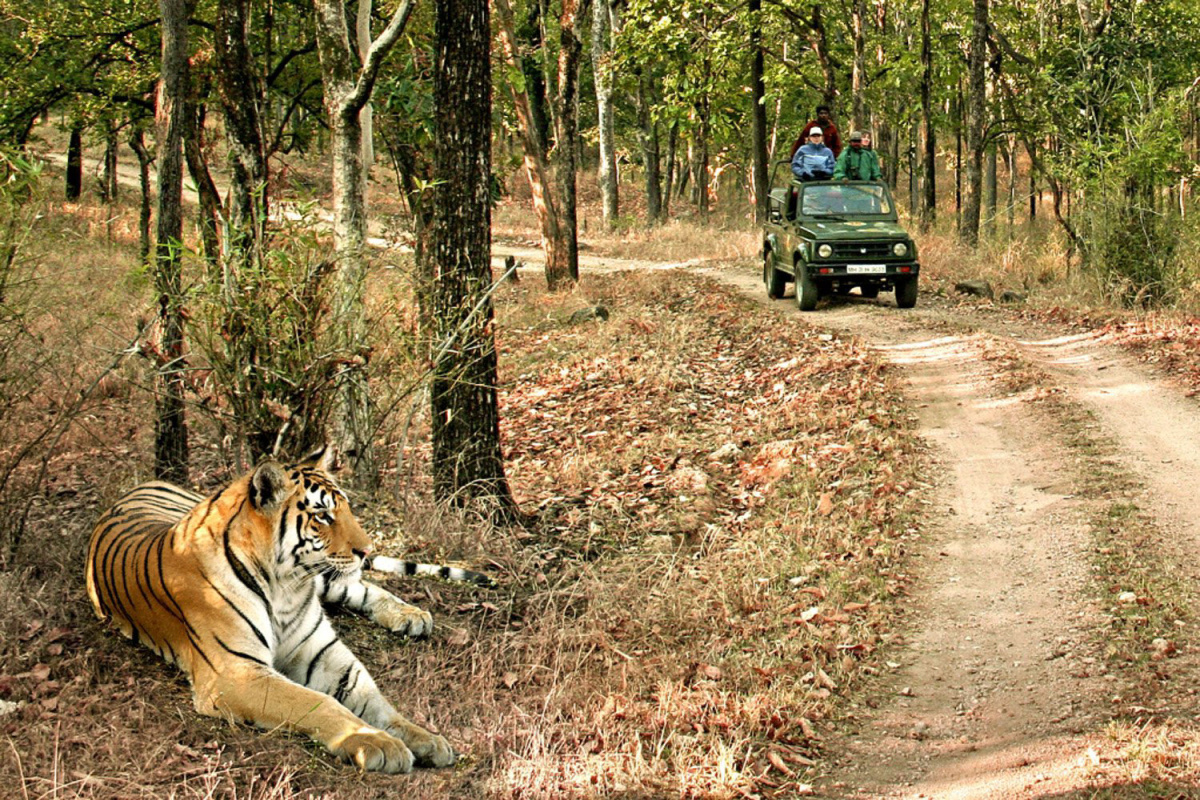 Early morning & evening game safaris into the Bandhavgarh National Park. Safaris in Bandhavgarh are organized in jeeps. Local guides and naturalists are at hand to enhance the experience.
Day 09: Bandhavgarh – Panna
Early morning game safari into the Bandhavgarh National Park. Safaris in Bandhavgarh are organized in jeeps. Local guides and naturalists are at hand to enhance the experience.
Later drive to Panna (200 kms / 03 hrs).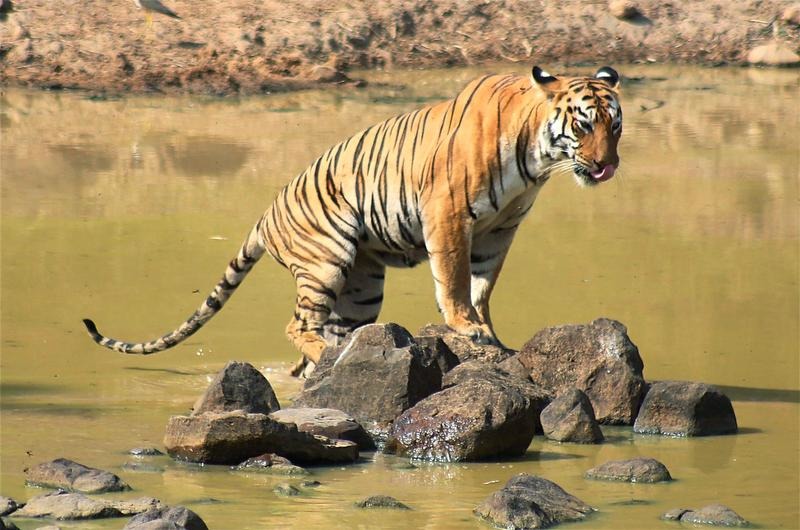 Panna : Panna Tiger reserve is the 4th Project Tiger reserve situated in the Central Indian State of Madhya Pradesh. Panna Tiger Reserve encompasses 543 square kilometres of varied habitats and extends along the river Ken which flows north to join the Yamuna River, a tributary of the mighty Ganges. The region, which is famous for its diamonds, is also home to some of the best wildlife species in India and thanks to the recent conservation efforts has now become one of the premier Tiger Reserves in the country. The magnificent king of predators has become increasingly easy to observe at Panna as the population grows and other rare species such as Leopard and Wolf may also be seen by the fortunate visitor.
Herds of Spotted Deer, Nilgai, Chinkara and Sambar inhabit the reserve forming the principal prey species for the Tigers. The former hunting preserve of the Panna family, the park comprises large tracts of riverine forest providing perfect cover for both predators and prey. Panna Tiger A Gharial sanctuary along the river Ken near the spectacular Raneh Falls is an added attraction where we may be lucky to see a number of these endangered fish eating crocodiles basking on the muddy banks. For keen birders, over 200 species of birds have been identified in Panna Tiger Reserve and visitors are likely to encounter more than 100 species around the reserve to augment the mammal observations. A good variety of birds of prey includes the Black-shouldered Kite, Crested Serpent Eagle, White-eyed Buzzard, Shikra, and several species of Vulture along with of course the Malabar Pied Hornbill, Black-headed Oriole, and a selection of flycatchers, babblers and warblers.
Upon arrival check-in to the Taj CC Africa Pashan Garh.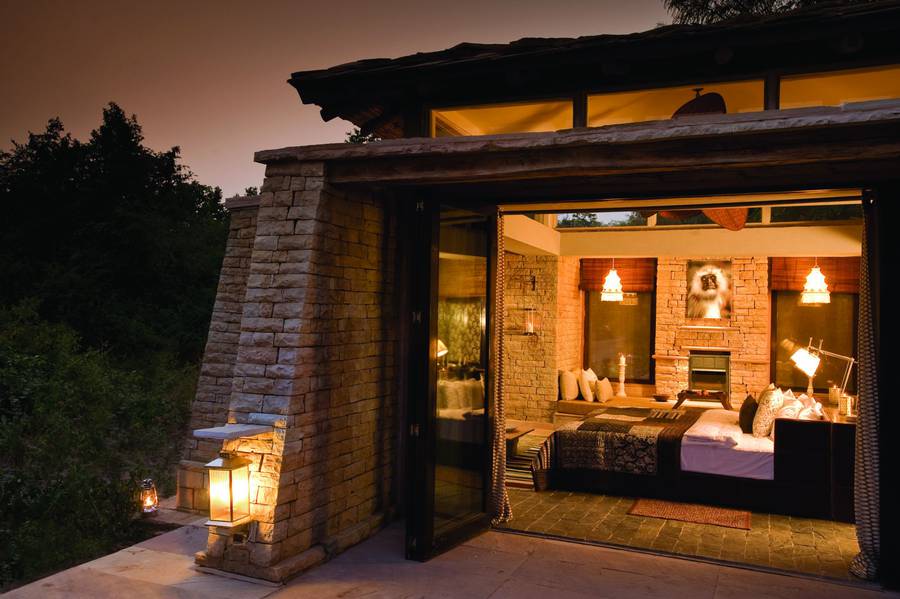 Taj CC Africa Pashan Garh : Taj Safaris' fourth jungle lodge, Pashan Garh, meaning 'stone house', draws inspiration from the dry-packed stone houses of north-central India. The 12 luxury stone cottages, located a mere 12 km from the park entrance, are spread out along a small stream, and are surrounded by 190 acres of private jungle wilderness. They are set atop a small hill, with magnificent views over the forest and a large nearby waterhole, which has been host to numerous tiger and resident antelope sightings.
The overall design of Pashan Garh is stony and rough hewn, with white marble, leather furniture, and ebony and chocolate highlights. Each room has been created using dry-packed stone and features dramatic carved wooden 'jaalis' (intricate Indian shutters) that filter the soft morning light. The guest areas celebrate Haveli design, with a spacious central courtyard. The interiors are contemporary mix of chocolate linens, block-printed black silks, celadon cottons and cotton lace chandeliers.
Day 10 : Panna – Khajuraho – Delhi
Early morning game safari into the Panna National Park. Safaris in Panna are organized in jeeps. Local guides and naturalists are at hand to enhance the experience.
Later drive to Khajuraho (35 kms/01 hrs) to board flight for Delhi
On arrival at Delhi airport you will be met and transferred to hotel The Imperial for check-in.
Day 11 : Depart Delhi
Your India wildlife tour ends with a transfer to the Delhi International airport in time to board flight home.
Like this tour? We will be glad to customize it to your requirements. You can ask us to add a night here and there, add activities, more sightseeing or even combine Two or more tour plans for a truly spectacular experience of India.  Please visit Contact Us page to submit your query. We will work it all and send a quote to you. If you have a query, let us know. We will be happy to answer.
(Visited 168 times, 1 visits today)